Hair Piercing: What Trendsetters Are Doing Now
Piercings are in again! Now in a pain-free and fast-moving version. No longer are the trendy rings and studs sparkling in the nose, tongue or navel, but in our hair. Romantic, cool or punky: we present awesome hairstyle ideas with the jewellery of the hour
Piercings for your hair? While this may sound unusual at first, it is actually a brilliant idea. The metal rings, pins and studs have truly earned the name 'hair accessory'. Unlike other accessories such as clips, bands or barrettes, hair piercings have no practical purpose. Their sole reason for existing: decorating the hair to create more elaborate hairdos. What's more, the piercings do not actually pierce the hair but are held in place gently without causing pain. No wonder more and more stars and street stylers are putting these highlights in their hair.
Here's Why You Too Are Going To Love Hair Piercings:
Unlike genuine piercings, they do not hurt.


They are fast and simple to put in and also to take out again.


They are available in different versions from clean to rocking.


The little eye-catchers can also be worn on big occasions.


They offer creative freedom: hair piercings can be mixed up and rearranged time and time again.
What Hair Piercings are there?
The trendy hair accessories are available in multiple different forms. Hair rings for example are especially popular right now: they look like small hoops worn in the ears but are made especially for hair. As a rule they are easy to bend open so they fit in and around strands of various widths. The rings are available in silver, gold and sometimes also in bright colours like pink. Some of them are decorated with little charms – pendants with a motif in the form of stars, hearts, flowers and the like. Another piercing version: hair studs and pins positioned in the hair so only the end is visible. This makes the hair look as though it were decorated with individual pearls, glass crystals or also rivets.
Hairdos with Hair Piercings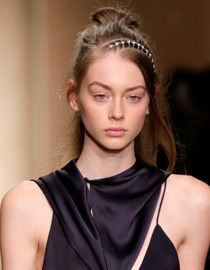 Textured hair with good grip is essential so the trendy rings and studs stay properly in place rather than slipping or falling out. So is the right hairdo: braids for example. Boxer, Dutch or French braids – braided hair is ideal for piercings. Always style your hair before putting in the accessories. Whether you braid all your hair, several strands or just one is left entirely up to you. Alternatively you can also twirl your hair. Just be sure that the section is twisted tight enough so it will not open up and keeps the piercings adequately in place. Extra tip: Work some dry shampoo into your hair first for added grip and easier styling.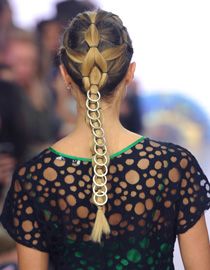 The piercing trend is all about creativity! For instance, you can mix different colours (like gold and silver) or types (clean rings and pearl studs) to create you very own look. You can use the accessories as a subtle eye-catcher, for instance by only putting them into one strand and wearing the rest of your hair open. Or go for a statement style and braid all your hair before generously adding XXL rings to your braid from top to bottom.