What is strobing?
After contouring, a second makeup trend is now setting the tone for our hair: strobing. The gloss effects that were previously applied only to the face now also shimmer as accents in strands of hair. The result: a tailor-made hair colour that makes us look fresher and younger! How it works
Hair colour professionals know where to be on the lookout for new trends today. In the cosmetics industry! At the latest since the contouring method (visually modelling facial features with the help of makeup) is also being applied to hair with colouration, it is clear that beauty tricks are not just for the skin. The same applies to the current makeup hype called strobing. This highlighting technique that contours the face has also developed into a popular hair colouring method. But let's start at the beginning:
Strobing: the new complexion trick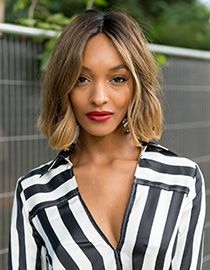 The makeup trend of the hour presents the cheeks, chin or forehead to best advantage with specifically placed highlights. This is because light sections draw the eye in principle while darker areas fade into the background. To perfectly "illuminate" the complexion, special highlighting products (fluids, creams or powders) are applied wherever light first falls on the face – for instance the cheeks, bridge of the nose, chin and around the eyes. This lends these areas a natural shimmer that effectively accentuates them. The contours are emphasised, slimmed or highlighted, the face appears fresher and younger.
Hair strobing: glow for skin and hair
Now the strobing principle is being applied to the hair. Once again, the goal is to emphasise the best facial features while concealing what is unloved. The required highlights are worked into the hair has streaks. To bring out the cheeks and eyes for instance, strands in the vicinity are lightened to varying degrees. The hairdresser integrates two lighter and two darker hues matching the natural hair colour to keep the look natural, also taking the wearer's skin tone into account.
To position the streaks as precisely as possible, hair strobing combines the balayage technique with foil babylights. This creates a natural, tailor-made look that draws attention precisely where you want it!