© Getty Images
Long Fringe: The Gringe Goes Around
Discovering the gringe: Stars, models and bloggers are swearing by the overlength fringe. Whether it is cut that way or grown out – the gringe-fringe is trending! We explain who can wear the look, how the long fringe is styled and what it-haircut definitely should be combined with this
Fringe or no fringe, that is the question. We have the answer: Gringe!

'Gringe' stands for 'grown out fringe'.
Features: Cut in the frayed look and reaching at least to the eyebrows.
Everything fits the (trend) framework this season with the grown out fringe. We are not the only ones who have taken a fancy to the overlength fringe – so have the world's most stylish women! Among them is the French model Caroline de Maigret. The style of the Chanel muse is inspired by the passion of the Rolling Stones and the coolness of Jane Birkin. And there you have it: Style icon Jane Birkin was known for her attractive long fringe. Caroline de Maigret also made the gringe cut her trademark, adding her own personal touch: Her long hair worn with the long fringe was adeptly tousled – in the messy look à la française.
Long Fringe: Who Can Wear The Gringe?
The gringe is truly flattering and goes well with just about any face. Since the bangs make the face appear longer, the long fringe is especially well suited for women with round faces. Angular heads appear softer with the frayed gringe cut and anything goes with oval faces. Another plus: The fringe down to the eyebrows brings out the eyes for intense radiance.
Gringe: Styling Possibilities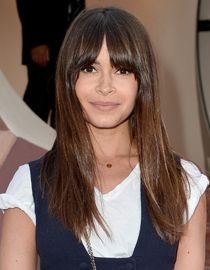 Contrasting: Next to the frequently seen gringe hair partners, the messy and undone looks, a sleek style stands out as unusual. Fashion blogger Miroslava Duma thought so too and combines the long fringe with a straight mane.
Styling tip: Part the fringe in the middle and sweep it out of the face to the sides – this makes the look more open, fresh and feminine-seductive. For a glossy finish, distribute some hair oil in the fringe and hair ends.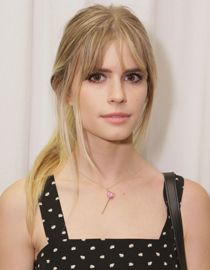 With the grown out fringe, the classic ponytail gets a new trend update. Actress Carlson Young shows how it's done, wearing a casually tied ponytail with a centre parting and undone gringe.
Styling tip: If you let a few longer strands fall out to the sides as well, the style gets a sexy retro look à la Brigitte Bardot.
Hairstyle Trend: Swing-Shag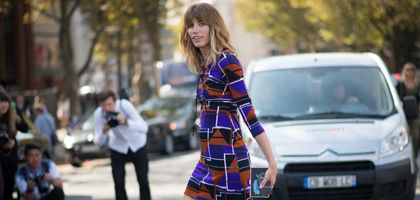 You have taken a liking to the gringe and want to give it some extra swag? Then combine it with the season's most spirited haircut: The swing-shag! The frayed stepped cut with a long fringe is the current favourite of many fashion girls – streetstyle beauty Veronika Heilbrunner for example has long since made it her signature hairstyle. She celebrates the trendy out-of-bed mane, consciously clashing with the style by wearing it with fine designer dresses. Another benefit of this popular hairstyle: It looks great and is super handy too – get up, tousle it up, done!