© Schwarzkopf
How Men Can Get Curly Hair Under Control
Ringlets in your hair? Wonderful. With a few care tips and key insider knowledge, your curls become your trademark – with a short or long haircut. You will marvel just what proper washing and drying can do. Learn how to get the hang of it here

The thing about curls... Highly defined or delicate, the fact is: Curly hair is really, really popular right now! So if you are blessed with ringlets, consider yourself lucky. Yet the curly look needs proper care to be truly attractive. We can help: These tips and tricks guarantee perfect waves. What are you waiting for?
Washing Men's Curly Hair
When you are shampooing in the shower, avoid massaging your hair too long or too hastily. Only massage the shampoo in at the hairline – the ends get sufficient care while rinsing. Apply conditioner to avoid knots in the curly lengths (shampoo opens the hair cuticle and cleanses it, conditioner nourishes and then closes and seals the hair structure again). The ends of your hair can benefit from extra care after washing. Special products prevent split ends and are sure to make (long) curls look healthier. Nourishing, strengthening and moisturising shampoos and rinses should be your first choice, because curly hair has a rougher texture due to its natural curves.

To prevent wavy hair from getting tangled after washing, do not rub it dry but only pat it down gently with a towel. Afterwards a coarse comb is good for detangling and also makes the curls appear more defined. Blow drying? Only if time is short. Letting your hair air dry is always best. For the full curl programme, do as women do – you will get the best results with a diffuser, a special hair dryer attachment.
The Best Haircuts for Men's Curly Hair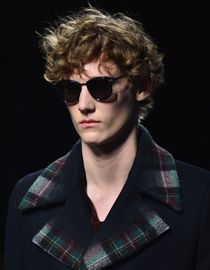 Curl advantage: Men with curly hair have a head start when it comes to versatility! Switching styles is easy for them. If you are looking for a change, perhaps because you've had enough of your curls, you can trim your hair short in a buzz cut for a lusty man's hairdo. The undercut is another alternative: This hippie cut where only the bottom hair is trimmed short is stylish, practical, appealing and – thanks to longer top hair at the crown – nevertheless keeps the popular curls. You prefer it long? Then a slightly layered cut is perfect. This makes the hairdo appear light, well cared for and modern.
Styling Men's Curls
Superbly simple: For added bounce in your curls, knead some styling foam into damp hair. Then wear it open or styled: Men's braids and the man bun are totally trendy right now. The coolest blokes tie long hair up into a knot (versions: half bun, top knot) that is sure to be a hit. On the other hand, the sleek look really changes your style. Here the hair is slicked down tight against the skull with gel. This style is very popular among the stars – and not only at posh events. Curls? Let's go!